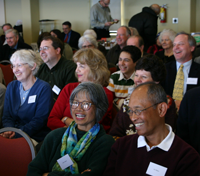 Educational Conferences
The Latin Mass: The Journal of Catholic Culture and Tradition and Keep The Faith are proud to present the following conference for Catholics – especially those committed to the timeless spiritual treasures of the traditional Mass.
Moral Chaos in America's Culture
Download the flyer and registration form. • Register
Featuring:
Father Kenneth Baker, S.J.
The Engine of Atheism– The influence of the theory of evolution on our culture has contributed to the growth of atheism, materialism, and radical individualism in our society. Fr. Baker is Editor Emeritus of
the Homiletic and Pastoral Review. He is also a regular
contributor to The Latin Mass magazine.

Mr. Robert Reilly, –
Islam and Christianity: The Theology Behind the History
• Author of The Closing of the Muslim Mind
• Senior fellow at the American Foreign Policy Council
• Member of the board of the Middle East Media Research Institute
• Former Director of the Voice of America
• Taught at the National Defense University
• Served in the White House and the Office of the Secretary of Defense.
Christopher Ferrara –
Onward Christian Soldiers: A Look at the New Hungarian Constitution and Other Possible Counter-Offensives Against the Dictatorship of Relativism. Mr. Ferrara is President and Chief Counsel of the American Catholic Lawyers
Association, Inc. He is a regular contributor to The
Latin Mass magazine.
Ronald G. Connolly, M.D.
Our Culture's Claim that Faith and Reason are Incompatible is Unreasonable – The consequence has been a cultural devastation devoid of both faith and reason. Dr. Connolly practices Internal
Medicine in Lafayette, CA. Dr. Connolly received his
medical degree from Georgetown University School of
Medicine.
November 17-18, 2012
in Monterey, California at The Beach Resort, 2600 Sand Dunes Drive, Monterey, California
REGISTER ONLINE (this link goes to the Keep the Faith website)

The offering per ticket is $58 per person, $100 per couple. $25 for students and will include a hot plated lunch on Saturday.
For those who also wish to attend the no-host continental breakfast on Sunday following Mass, the offering is an additional $15.00 per person.
ConferenceCDs will also be available following the conference for $25 per set of three (3) CDs (includes Shipping and Handling).
The offering for the Conference is below the cost that will be incurred by Keep the Faith for this event and for the honorariums for each of the speakers. However, it is the desire of Keep The Faith to host this event in a setting that will be both comfortable and attractive for those who attend.
Any offering beyond the amount asked for each ticket will help Keep The Faith cover the full expense of the event and will be most gratefully received.
If registering by mail, please mail your registration and payment to:
Keep The Faith
P.O. Box 277
Ramsey, NJ 07446
For further information: Call (210) 327-5900.

Past Conferences Now Available as downloads!!!
Click Below to go to our listing of the latest Conferences Available
to Download
CLICK HERE FOR PAST CONFERENCE DOWNLOADS
---
---